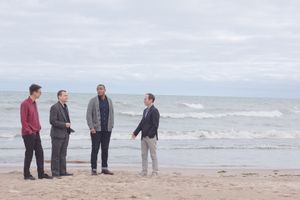 I'm very excited to announce that my original jazz quartet, Many Blessings, will be releasing our debut album, Arroyo, on Friday, September 15th, 2017. We'll also play an album release show on Tuesday, September 19th, at the Whistler in Chicago.
This announcement has been a long time coming. I first assembled a quartet called "Lucas Gillan's Many Blessings" over a decade ago. Ever since then, it's been the central creative outlet for my compositions, arrangements, and ideas about leading a band. I feel like we've developed a special group sound over the years that deserved to be documented on a properly-released record. We spent two days recording at Shirk Studios in 2015, and we're finally ready to release the finished product out into the world. So, mark your calendars for Fri 9/15 (the release date, on iTunes, Spotify, Amazon, etc.) and Tues 9/19, for the release show at the Whistler. The album will be released on JeruJazz Records, a Chicago-based label run by bassist Joe Policastro that has been putting out lots of great music lately.
While you'll have to wait until September 15th to hear the whole record, you can stream two tracks below.