Drummer ■ Educator ■ Composer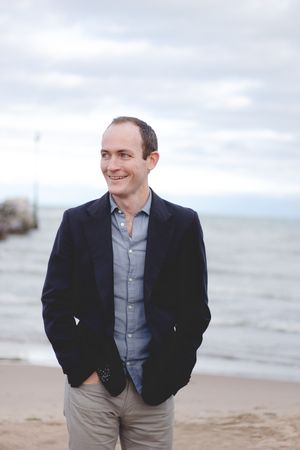 Lucas Gillan performs as a drummer in diverse musical settings, teaches drums and percussion to a wide range of ages, and composes and presents his own music on a regular basis.
His drumming has brought him to the top jazz and rock clubs in Chicago, like the Green Mill, the Jazz Showcase, Andy's Jazz Club, Lincoln Hall, Schubas and many more. He has also toured around the country, including shows in St. Louis, Madison, Indianapolis, Cincinnati, Nashville, and Austin. He is the percussion instructor at Fenwick High School in Oak Park, IL, teaches drum set at Wheaton College, and maintains studio of private drum and percussion students. In 2019, he joined Blue Man Group as a part-time drum set player, performing the iconic show at Briar Street Theatre between 1 and 4 times per week.
Apart from his work as a sideman and an educator, Lucas also composes and presents his own music. He leads an original jazz quartet called Lucas Gillan's Many Blessings, with whom he performed at the 2018 Chicago Jazz Festival. Many Blessings has released two albums on JeruJazz Records, the most recent of which, Chit-Chatting With Herbie, received critical acclaim from the likes of The Wire (UK), Chicago Jazz Magazine, and the New York City Jazz Record. Lucas is also the drummer in the Chicago soul/pop band The Right Now, whose most recent full-length album, Starlight, includes tracks co-composed by Lucas.
He also occasionally performs as a solo singer-songwriter, and has performed at Chicago's Uncommon Ground, Cafe Mustache, and the Hideout.
Lucas started playing drums when he was nine years old in his hometown of Tucson, Arizona, and quickly found himself performing frequently in settings as varied as churches, punk clubs and jazz concerts before entering high school. While in high school, Lucas played in Tucson's top student jazz and classical ensembles, including the award-winning Arizona Jazz Academy (now Tucson Jazz Institute). He moved to the Chicago area to attend Northern Illinois University, graduating in December '07 with a Bachelor of Music in Jazz Studies and a minor in Journalism.
While at NIU, Lucas learned from world-renowned educators like jazz studies director Ronald Carter and professor of percussion Gregory Beyer. While playing in Carter's jazz ensemble, Lucas had the privilege of performing with jazz greats Antonio Hart, Claudio Roditi, John Clayton, and Charles McPherson.
In June 2017, he graduated from DePaul University with a Master of Music in Jazz Studies. While at DePaul, he studied drum set with Dana Hall and composition and arranging with Thomas Matta.
    •    Contact Lucas at lwgillan@gmail.com
    •    Find out where he'll be next at the gigs page
    •    Listen to his music on SoundCloud