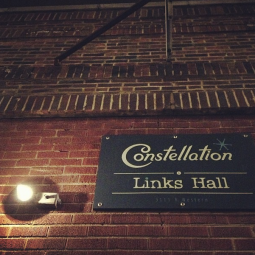 Coming right off the heels of a fun night of music and libations at Rogers Park's Lighthouse Tavern in October,
Many Blessings
 will be coming to one of my favorite venues in the world,
Constellation
! I'm honored to be playing as part of their Sound of the City Workshop series, where a different band each week plays an opening set of original music, followed by an open free jazz jam session. I've always really enjoyed the scene and the music when I've attended the series as an audience member and jammer, so I'm beyond excited to be playing the featured set this week.
I'm so excited, in fact, that I've taken a few days off this past week to stay at home and compose some new music. If you're the kind of person who likes being present at world premieres, then you should definitely come out. The new material is quite different from the rest of the book, partly because I'll be coming out from behind the drums to play cajon and guitar for some of the tunes. It might turn out to be a train wreck, but it'll be a unique train wreck that we will all share together, and that's special.
Here's the particulars:
Where:
 Constellation, 3111 N. Western Ave., Chicago
When: 
9:30 p.m. Wednesday, November 5th
How much: 

FREE!

Who: 
Lucas Gillan's Many Blessings:
          Quentin Coaxum: trumpet
          Jim Schram: tenor sax
          Daniel Thatcher: bass
          Lucas Gillan: drums, guitar, percussion, compositions
Check out the official event page
here
.